Coronach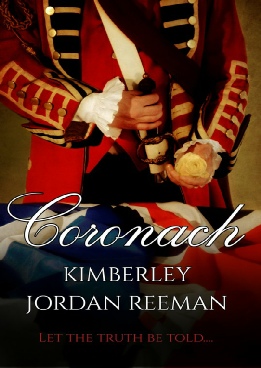 SCOTLAND, JULY 1746: an army of occupation ravages the Highlands, committing atrocities with consequences that will reverberate for generations. From this bloody cataclysm, the battle-hardened English soldier Mordaunt saves an infant who will become his heiress and his obsession, and on his shattered estate a traumatised Franco-Scottish laird, Ewen Stirling, offers protection to a boy damaged by unspeakable horror.
These lives, bound by fate, unfold against the turbulence of the 18th century, in a magnificent, uncompromising saga of love and the human cost of war.
"Tell Me a Story . . ."
The story begins:
You ask me, how shall we overcome these shadows? How much truth is unbearable?
I have known the darkness, and the poignancy of the light. I shrink from neither, deny neither.
They are my truths; it was my life.
These are my truths.
Why did I write Coronach? I wrote it because it was the greatest gift any writer can receive: a story no one else has ever told. The 18th century and the events and tragic consequences of the Jacobite rebellion of 1745 have long been viewed through a prism of romantic idealism, and never more so than now, as history metamorphoses into fantasy. Coronach explores the uncomfortable truths of the years between 1746 and 1790 in Scotland, and sets them within the context of a century of war: a world war waged on land and sea from the killing grounds of the Low Countries to the raw wilderness of North America. And in this relentless striving among nations for global supremacy, the life of an individual is a mote of dust, and of as much significance to an invading army.
Why is it so violent? Because Coronach does not compromise. It is a novel about the human cost of war. War annihilates, and among its first casualties are the innocent. An army of occupation commits atrocities, and civilians die. Women, children, the old, the vulnerable, the non-combatants suffered as certainly in the eighteenth century as in Vietnam, Iraq, Bosnia, Afghanistan. In this, Coronach is as relevant as today's headlines.
Why should you read it? If you are American, it will speak to you of the founding of your nation, and cast a perhaps unexpected light on the seeds of revolution. If you are Canadian, as I am, you will understand the Scots who explored, charted, fought for and governed that vast, fur-bearing territory and, from Nova Scotia to the Mackenzie and the Fraser, inscribed Scotland forever on its maps. If you are English, Coronach will illuminate a century of magnificence: if you are Scottish, this is your heritage. These are your truths. If you are French, Coronach will evoke for you the menace and the majesty of Britain's implacable foe.
If you are a woman, this is the story of an indomitable woman, whose life was lived against the background of that turbulent century.  If you are a man, Coronach will speak to you of the honour, courage and vengeance of men, and the greatness of the human spirit. If you are a soldier, you will read of duty, service and the habit of command, the uniform's brotherhood: if you are a pacifist, you will find justification. If you are a believer or an atheist, you will see the struggle for God amidst the surrounding darkness.
Coronach is a novel of passion, explicit and powerful, for sexuality is perhaps the most profound of all human experiences. It is a novel of the many aspects of great love. Whatever your sexual orientation, it will speak to you. Of love between women and men, of love between men, when homosexual acts in the armed forces were punishable by death.
If you are human it will speak to your humanity, and to your compassion.
As readers, we all come to a book with an open mind, an open heart, and say, "Tell me a story."
Let me take you by the hand into the 18th century, and I will show you how it was.
Ordering Coronach
Coronach is published in the UK by Troubador Publishing Ltd (www.troubador.co.uk/matador). A new e-book edition (ISBN number 9781 78901 2606) is now available for Kindle and other e-readers. The trade paperback edition (ISBN number 9781 78901 7717) will be released on May 28, 2019.